The Vegetarian Bounty of the Ocean: Seaweed
By Chef Elaine R. Cwynar, CCP
October 2018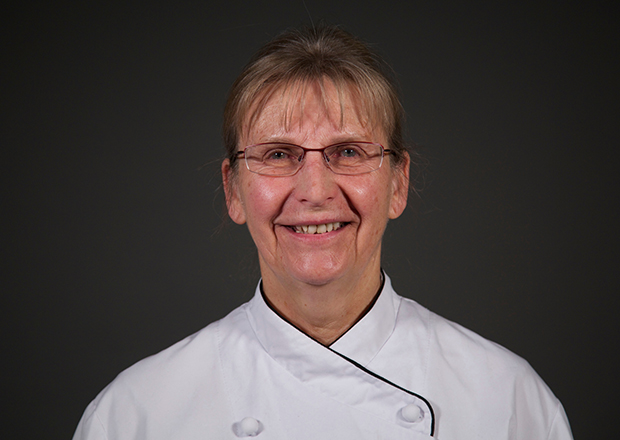 New England's fall harvest is bountiful and beautiful. We are familiar with the reds of apples and the oranges of pumpkins. But, did you know that fall also signals the beginning of a new crop of vegetables?
October marks the start of the growing season of sea vegetable. Scientifically categorized as macroalgae, these ancient vegetables, commonly known as seaweed, are thought to be over a billion years old. Classified as red, green or brown, these edible seaweeds are found worldwide in warm ocean waters to the colder ones at the poles. Sea vegetables can be harvested in the wild, farmed intentionally as a single crop, and can be grown in concert with shellfish such as mussels. Their growing season is the fall and winter into spring when harvest starts in April. Like land plants, they use the energy of the sun for photosynthesis and produce oxygen.
Macroalgae has a robust nutrient profile with a high amount of fiber, omega 3's and 6's, calcium, iodine, trace minerals, and vitamins. They are a focus in the recipes my students develop in my Vegetarian Cuisine course. Sea vegetables can be paired with other foods to provide protein, carbohydrates and healthy fats. Changing the way the world eats with a plant-based, sustainable diet, means that sea vegetables from our "ocean farms" can supplement and improve nutritional intake.
Lucky for us, sea vegetables are available all year round and can be purchased fresh-frozen or dried. Historically, our main sources of sea vegetables were countries in Asia, but now there are gatherers and farmers on the East and West coasts. Two companies in Maine, Maine Coast Sea Vegetables and Ocean Approved, and Walrus and Carpenter Oysters in Rhode Island are forging ahead with market varieties.
Here are a few ways to incorporate sea vegetables in to your own meal plan:
Three brown seaweeds each offer unique flavor and benefits. Kelp is great for cooking with soaked dried beans as it tenderizes them and adds vitamins and minerals. Wakame is milder and perfect for soups, salads and beverages. Dried Arame reconstitutes quickly and is perfect to experiment with first.
Applewood Smoked Dulse, a red seaweed referred to as the "bacon of the sea," adds smoky dimension to dips, vegetarian breakfast sausages and grilled tofu.
Green Sea Lettuce is a striking lime green and livens up salads, dressings and butters. Adding some dry sea vegetable seasonings such as Triple Blend flakes or Dulse flakes can round out the profile. 
The deep, savory flavor, (umami), of seaweeds add a rich profile to soups, stews, roasted vegetables, chilis, breads, baked seafood, pizzas and alternative proteins like tofu or tempeh. They can be added to smoothies, breakfast eggs or scrambled tofu and even desserts like flans, cookies, cakes, and frostings.
The possibilities are endless, so dive in and take advantage of our oceans' garden. Try Chef Cwynar's creative approach to using sea vegetables: