Charlotte Campus
Do I need to register to attend the commencement ceremony on May 4?
Yes. Your first step, though, is to complete your graduation application. To view or submit your graduation application, login to jwuLink, go to Pages > Student Account > Graduation Application.
The Commencement Registration Form will be available soon.
---
How should I dress under my gown?
Students' dress should be nice but take into account the weather. Another consideration is the type of shoes you choose. Stiletto heels may not be the best choice as you will be going up and down stairs in the building as well as on and off stage.
---
Do I receive my diploma at commencement?
Graduates receive a diploma cover only at commencement. Diplomas are printed and mailed after the degree verification process is complete, which ends approximately 6-8 business weeks after the end of each semester. Please contact Student Academic services with any questions.
---
I'm finishing my associate degree now and continuing for a bachelor's degree. Do I have to attend commencement now or can I wait?
Each degree has its own separate graduation date. You have the option to attend commencement this year for your associate degree or you can wait to attend commencement in the year when you finish your bachelor's degree. Or, you can attend both commencements. It's your choice; your name will be printed in the program regardless of attendance at commencement.
---
I cannot or do not want to attend commencement. Do I need to tell anyone? Will my name be printed in the commencement program?
No notice is required if you are not attending; however, it would be helpful to know if you are not attending. When the Commencement Registration form is available, please be sure to complete it.
Your name will be printed in the program regardless of attendance, but it will not be announced since you will not be in attendance to cross the stage.
---
If I am not attending commencement, do I still need to complete exit counseling?
If this is your last semester at JWU and you have student loans, this is a requirement.
---
How do I submit or view my graduation application? What is it?
To view or submit your graduation application, login to jwuLink, go to Pages > Student Account > Graduation Application.
Fill it out to specify how you want your name printed on your diploma and where you want it mailed.
---
How do I order my cap and gown?
Cap and gown ordering information will be posted soon.
---
How do I complete student loan exit counseling?
Step 1

Complete Student Loan Exit Counseling (if spring semester is your final term of enrollment and if you have student loans)


Step 2 (Undergraduate spring grads only)


Complete The Outcomes Survey

Invitations will be emailed from "JWU Institutional Research" beginning in April.
Follow instructions to complete this very brief survey, which asks what you are doing after graduation (working, pursuing an advanced degree, etc.).
PRINT proof of completion.

AS degree students continuing for a BS degree at JWU are not required to complete this survey.
---
What if I will be off campus during the spring semester and my graduation semester is spring, summer or fall?
If you have federal student loans, you will receive instructions during your graduation semester to complete student loan exit counseling.
---
Will the ceremony be videotaped or streamed live?
The ceremony will be live streamed. Watch your JWU email for link information.
---
Where can I park my car when arriving at commencement?
Parking will be free for students and families in the main parking lot for Bojangles Coliseum.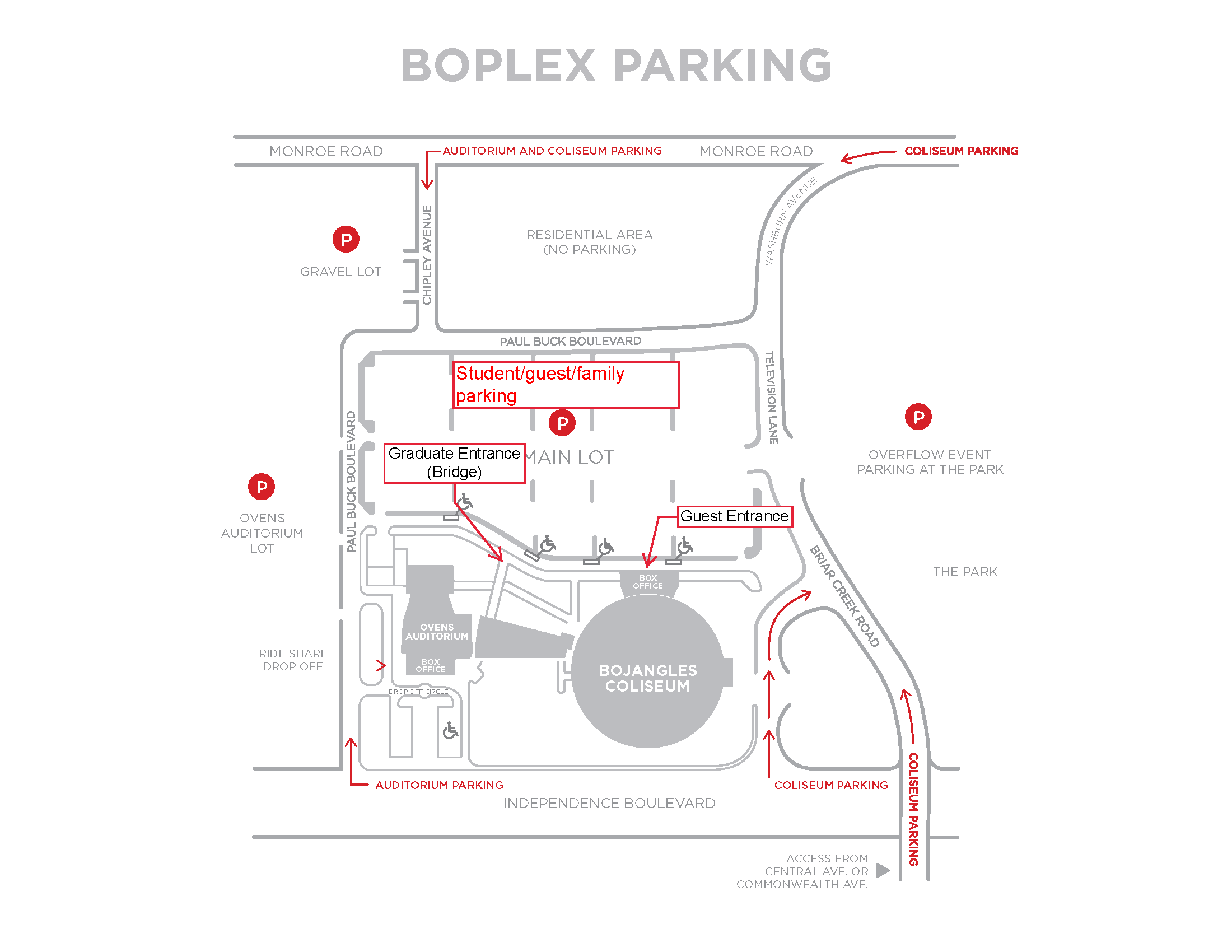 ---
Is there a special section for wheelchairs?
Yes, ADA seating is available at several locations throughout the Coliseum on a first come, first served basis. Seating in these areas is limited to the wheelchair user and one guest. Other members of the party are required to locate seating elsewhere in the venue. Please visit the Bojangles Coliseum website for further details.
---
Are wheelchairs provided?
It is recommended that if a member of your party requires ambulatory assistance, you should provide your own wheelchair.
---
Have other questions?
Contact 980-598-1020, representatives will be able to answer your questions or refer you to someone who can give you the information you need.