Things to Know for the Fall 2023 Semester
Wildcats, you should take immense pride in the commitment you've made to your education! We can't wait to begin the new school year with you. There's a lot to know, but we want to make sure you have a good start. Please continue scrolling for important information, or jump to a specific section:

Move-in Day

For students residing on campus, please visit livingoncampus.jwu.edu for the Wildcat Packing List, Guide to On-campus Living, and Frequently Asked Questions. Please note the following reminders. If you have unanswered questions, email reslife.pvd@jwu.edu.
On-campus residents will be moving in to residence halls on the morning of Saturday, August 26, 2023.
Assigned move-in times will be sent to your JWU email address; follow those instructions closely and arrive as close to your move-in time as possible.
Be sure to print out the parking pass included in your email - this is very important if your vehicle needs to be moved.
Because there will be a considerable queue of vehicles and due to a high amount of walking, we recommend limiting your move-in helpers to fully mobile persons.
Consider meeting up with other family members, small children, pets, etc. after you've unloaded and moved your vehicle.
A robust but limited number of student volunteers will be on hand to help new students (who would like the assistance) unload and/or move their items (help may not be available depending on how busy it is, time, etc.).
Mandatory hall meetings will be held from 3-5pm; check with your hall team for time and location. 

Commuter Resources & Welcome Event
For students living off campus, please plan to stop by the Commuting Wildcats Meet & Greet on Sunday, August 27, between 5-7:30pm at The Den. This is a great opportunity to connect with other students, meet your Pack Leaders, enjoy music and pizza, and play Xbox or a variety of board games. Plus, you can enter the raffle for a chance to win a parking pass or JWU meals! From there, we will head over to Gaebe Commons for Ignite the Night, a popular JWU tradition, at 7:30pm.
Whether you're new or returning to JWU, The Den - located at 35 Richmond Street (Richmond St side of the JWU Parking Garage) - is a dedicated lounge space for commuters. It's open 9am-5pm, Monday-Thursday, and you're welcome to hang out here when you're not in classes. The Den offers all the comforts of home and great amenities, including microwave, toaster oven, Keurig machine, couches, tables and chairs, TVs, and Xbox. Bring and store your food in the refrigerator to enjoy later. Use the conference room for a quiet place to study or to meet with classmates on a group project. Chill on one of the couches and watch TV or listen to music. The Den is a great place to connect with other commuters, too. 
Remember, Off-Campus Student Services is a dedicated resource for commuters. Follow our Commuting Wildcats Instagram account and jwuLink group for ongoing updates, announcement, events, and other notices. If you have questions or need help, please visit us in The Den, email ocss@jwu.edu, or call 401-598-4595.

Welcome Meetings for New Students
On Sunday, August 27, 2023, academic deans and chairpersons will be holding mandatory College Welcome Day information sessions for new students. Look for detailed instructions in your JWU email. Here's a summary of welcome day info sessions:
Arts & Sciences: 9am @ Pepsi Forum (Wales Hall)
Business: 10am @ Pepsi Forum (Wales Hall)
Engineering & Design: 9:30am @ Bowen Center Presentation Room (first floor, adjacent to lobby)
Food Innovation & Technology: 9am @ Wildcat Center Main Gym
Health & Wellness: 9:30am @ The Bridge (entrance is directly across from Xavier Hall entrance - Xavier Courtyard area)
Hospitality Management: 11am @ Xavier Courtyard (between The Bridge and Xavier Academic Complex)

Welcome Weekend Office Hours
On Saturday and Sunday, August 26-27, 2023, our main offices will be open to support you as indicated below. Follow links for support services and contact info. To our parents and families, as always, we are here for you as much as we are for your students. Don't hesitate to contact our departments directly with any questions you may have.
Academic Success Center: Open House from noon-2pm, Sunday, in Yena Center (Downcity Campus). The ASC is here to support your academic journey at JWU. Come learn about subject tutoring, writing support, supplemental instructions, success coaching, and other services - all of which are available to you at no additional cost.
Accessibility Services: Mandatory welcome meetings for new students requesting academic accommodations will be held on Sunday, following your College Welcome Day meeting. Look for details, included meeting location and time, in your JWU email from Accessibility Services (emails are targeted to send on Tuesday, August 15).
Campus Bookstore: 9am-5pm, Saturday, in John Hazen White Center (Downcity Campus) and Wildcat Center (Harborside Campus); 10am-4pm, Sunday, in John Hazen White Center (Downcity Campus) and Wildcat Center (Harborside Campus)
Counseling Services: 10am-2pm, Saturday & Sunday, in Wales Hall, Floor 2 (Downcity Campus)
Health Services: 10am-2pm, Saturday & Sunday, in Wales Hall, Floor 3 (Downcity Campus) and Harborside Academic Center (Harboside Campus)
JWU Global (International Student Services): 9am-2pm, Saturday, in the Student Services Center (Downcity Campus); 10am-2pm, Sunday, in the Student Services Center (Downcity Campus)
Student Academic Services: 9am-2pm, Saturday & Sunday, in the Student Services Center (Downcity Campus); 11am-2pm, Sunday, in the Harborside Academic Success Center (Friedman Center building, Harborside Campus)
Student Employment: 8am-2pm, Saturday, Wales Hall, 1st floor (Downcity Campus); 9am-2pm, Sunday, Wales Hall, 1st floor (Downcity Campus)
Student Financial Services: 8am-2pm, Saturday, in the Student Services Center (Downcity Campus); 9am-2pm, Sunday, in the Student Services Center (Downcity Campus)
Student ID Cards: 8am-2pm, Saturday, in the Student Services Center (Downcity Campus); 9am-2pm, Sunday, in the Student Services Center (Downcity Campus)

Class Start Notes & Reminders

Your Schedule
Classes start Monday, August 28, 2023. Review attendance policies and the academic calendar and plan to attend all classes fully prepared and on time. Below are some of the ways to access your course schedule in jwuLink. Because changes are possible, please re-review your schedule 24 hours before the start of classes (note: classroom locations get assigned 2-3 weeks prior to the start of the semester). If you have any questions about your schedule, please contact Student Academic Services.
jwuLink Dashboard > click the Course Registration dropdown

jwuLink Dashboard > scroll down to the Academic Profile widget

jwuLink Shortcuts menu > My Information

jwuLink Tools menu > Academics
Important: When viewing your schedule, pay special attention to the meeting dates, days, and times that are listed. When viewing schedule details, the bottom row outlines final exam information (day and time) - again, look at the dates, days, and time. PLEASE WATCH THIS SHORT, HELPFUL INFO VIDEO!  
Books & Uniforms
Go to www.jwubookstore.com for a listing of required textbooks. Books can be rented or purchased online or in person (but go to the campus bookstore location where your classes are being held). Please contact your course instructor directly with any questions regarding books and other classroom requirements. If you have any questions about CFIT uniform requirements, please email events@jwu.edu.
To access course syllabi and announcements from your instructors, open ulearn, which is JWU's online learning management system used in the delivery of all courses. Tip: For quick access, look at the ulearn widget located on your jwuLink Dashboard.
Student ID Card
Official university student identification (ID) cards are issued to all students and must be carried at all times. While on campus, display your ID card on a lanyard, clip, etc. The ID card is part of the JWU campus electronic security system, campus dining meal plan, and transportation ridership. Review full ID card policies in the Student Handbook.
If you have not received your ID card or need a replacement ID card (carries a fee charge), please visit the ID Services counter in the Student Services Center (Downcity Campus).
If you are having issues accessing buildings with your ID card, please visit or contact Campus Safety & Security.
Holds
All holds must be cleared before August 31, 2023. Students who have not cleared holds by this date will have their fall course registration deleted on 8/31/2023. In addition to checking your JWU email regularly and often, please make sure to open jwuLink often and look at your Tasks, Activity feed and notifications, and holds.
COVID-19
Please note that, as always, the health and safety of our entire campus community remains our top priority. Anyone who feels ill is advised to stay home and contact Health Services or their healthcare provider for guidance. Students who test positive for COVID-19 will be instructed to isolate in place, and to mask for an additional five days after isolation has ended. The COVID-19 vaccine and masking are no longer required; however, masks will be required in Health Services offices if you have any respiratory or gastrointestinal (GI) complaint, and/or at the discretion of the provider or nurse. We ask that all students bring the following with them when they come to campus:
Rapid COVID-19 tests (we will not have tests available)
A well-fitting mask (N-95 or better) in case of you become sick
Hand sanitizer
Disinfecting wipes
Student Handbook
Remember, the Student Handbook is your reference to the resources you need at Johnson & Wales University. It contains information on academics, advising, financial services, student activities and services, academic and university policies, the Student Code of Conduct and Conduct Review Process, and much more. You should be familiar with and reference the Student Handbook often.

Buildings & Campus Map
Need help getting around campus? Open the campus map and reference the following building key (these are the possible codes that will be listed on your course schedule):

Parking & Wildcat Wheels
Students who plan to bring vehicles to campus and use JWU parking lots and facilities must register their vehicles each school year and are expected to visit transportation.jwu.edu and review ALL provided information, including information regarding regulations, rules, and bans.
JWU PARKING LOTS: You must purchase a parking permit and affix it to your vehicle to park in a JWU lot. Parking permits are NOT needed to park in the garage and do NOT waive hourly fees for the garage.
JWU GARAGE: To use JWU's parking garage, swipe your JWU ID card for access, take the ticket from the machine, and proceed into the garage to park. You will need this ticket when paying and exiting the garage. Payments can be made at one of the kiosks located throughout the garage. All kiosks accept credit cards and one kiosk also accepts cash. At the exit, you will insert your paid, validated ticket and the gate will open for you to exit. Please review hourly rates. Note: You must pick up a parking garage sticker from the garage office (ground level, near entrance).
HOW TO PURCHASE PERMITS & PASSES: Parking permits and a limited number of garage passes for the 2023-24 school year can be purchased online starting August 13, 2023. Also, purchases can be made in person at the Cashier booth located in the Student Services Center during office hours for Student Financial Services.
As a reminder, Wildcat Wheels campus bus transportation is available to all JWU students with valid ID cards. Visit transportation.jwu.edu for current bus schedules and policies, and check the Wildcat Wheels jwuLink group channel for ongoing reminders and announcements.

Campus Dining
Visit dining.jwu.edu for detailed information regarding on-campus dining locations, meal plans, FAQs, care packages, and food allergies. Resident students choose their meal plans for the academic year when selecting their rooms in the housing portal. Commuters may purchase any meal plan option (Wildcat Meals are recommended and can be purchased in blocks). Meal plans can be purchased on the dining website.

Tech Help
Have questions about or need help with JWU technology - login passwords, wifi, computer labs, email, printing, or something else? JWU IT has quick link resources for students. Please don't hesitate to contact the IT Service Desk for support:
Call 401-598-4357 or 866-598-4357
Email it@jwu.edu
Tip: Have you downloaded JWU-related mobile apps to your phone? Check out these recommended apps!

Fitness & Recreation
Fitness center use is free to all students, faculty, and staff who possess a valid JWU ID card. Students may participate in a wide range of fitness and recreation programs and intramural sports. Each semester, the fitness centers sponsor multiple recreation programs that promote a holistic approach to wellness, while being fun, engaging, and educational. Fitness classes may include spin, yoga, Zumba®, boot camp and cardio kick-boxing. Pilates and self-defense classes are offered throughout the year at the Wildcat Center. Classes are held in the mornings, at noontime and early evenings. In addition, a variety of intramural programs are offered that have proven to be very popular. Also, club sports allow students to participate in sports activities that go beyond the scope of intramural programs.  Current club sports include esports, cheer/mascot, dance, football, rugby and MMA. For more information about any of these program offerings, please call 401-598-1624, or contact the Wales Hall or Wildcat Fitness Centers or the JWU Athletics department.
Wales Hall Fitness Center Hours (8/26 to 11/17)
Monday-Thursday, 7am-9pm
Friday, 7am-5pm
Saturday-Sunday, noon-5pm
Located on the lower level of Wales Hall on the Downcity Campus, this fitness center provides cardiovascular equipment including True treadmills, Cybex stationary bikes and Cybex ACR Trainers. Also offered are a variety of free weights and selectorized equipment including Hammer Strength and Life Fitness Equipment.
Wildcat Center Fitness Center Hours (8/26 to 11/17)
Monday-Thursday, 7am-1pm
Friday, 7am-7pm
Saturday-Sunday, 10am-5pm
Located on the second floor of the Wildcat Center, this fitness center is a state-of-the-art facility with more than 6,000 square feet of fitness equipment. StairMasters, treadmills, stationary bikes, a Cybex circuit, power racks, free weights, a Gravitron machine, plyometric equipment and Body Trek machines are all offered at this facility.
Wildcat Center Recreation (8/26 to 11/17)
Monday-Thursday, 8am-10pm
Friday, 8am-7pm
Saturday-Sunday, 10am-7pm
Located on the Harborside Campus, the Wildcat Center services the entire university community. It offers four basketball courts, three volleyball courts, a 6,000-square-foot fitness center, a student life center, and a bookstore. The center is home to the Wildcats intercollegiate sports teams, the Student Engagement Harborside Campus office, the Athletics department and Intramural and Recreational Activities.

Weeks of Welcome Events
Ignite the Night, First Day Freeze, Student Involvement Fest, Meet the Greeks, JWU at the Zoo, Block Island Trip, Big E Trip
Whether you're new or returning, there's LOTS going on for all students. Update your calendars now and don't miss out! Come with friends, meet new friends, have fun, and enjoy some free stuff. Check out the Student Engagement group channel for all the events going on and full details.
PS Save the date and join us for Homecoming & Family Weekend, October 6-8, 2023. Follow the website link for more info!

Part-Time Job Fair
Join Experiential Education & Career Services (EE&CS) and the Student Employment office to connect with local employers for part-time jobs. In addition, if you're looking for an on-campus job or selecting your Federal Work Study position, hiring managers from various JWU departments will be present to meet with you to discuss opportunities with them.
Thursday, August 31, 2023
noon to 3pm
Gaebe Commons (rain location, Pepsi Forum)
Update your calendar now and check for employer additions and updates here! If you would like help preparing or have questions, please call EE&CS at 401-598-1070.

Local Info & Banks
Art, Banks, Dining, Discounts, Music, Recreation, Shopping, Theatre
Start exploring! The city is filled with a bounty of amazing restaurants along with rich art and entertainment, from live music venues to big screen multiplexes, small art house cinemas and an IMAX. There are also many outdoor and sports options, too. Nearby shopping destinations include Providence Place Mall, Garden City Center, and Warwick Mall. National chains like Target, Whole Foods, Wal-Mart, Kohl's and others are close by as well. A great place to start learning the city is goprovidence.com.
Many attractions and retailers provide a discount to college students, typically after showing a student ID. So, be sure to ask or look for offers!
Students can bank at any institution of their choice. The following banks, listed as a convenience, have full-service locations in the Downcity area: Bank of America, Bank Newport, Bank Rhode Island, Citizens Bank, Santander, and Washington Trust.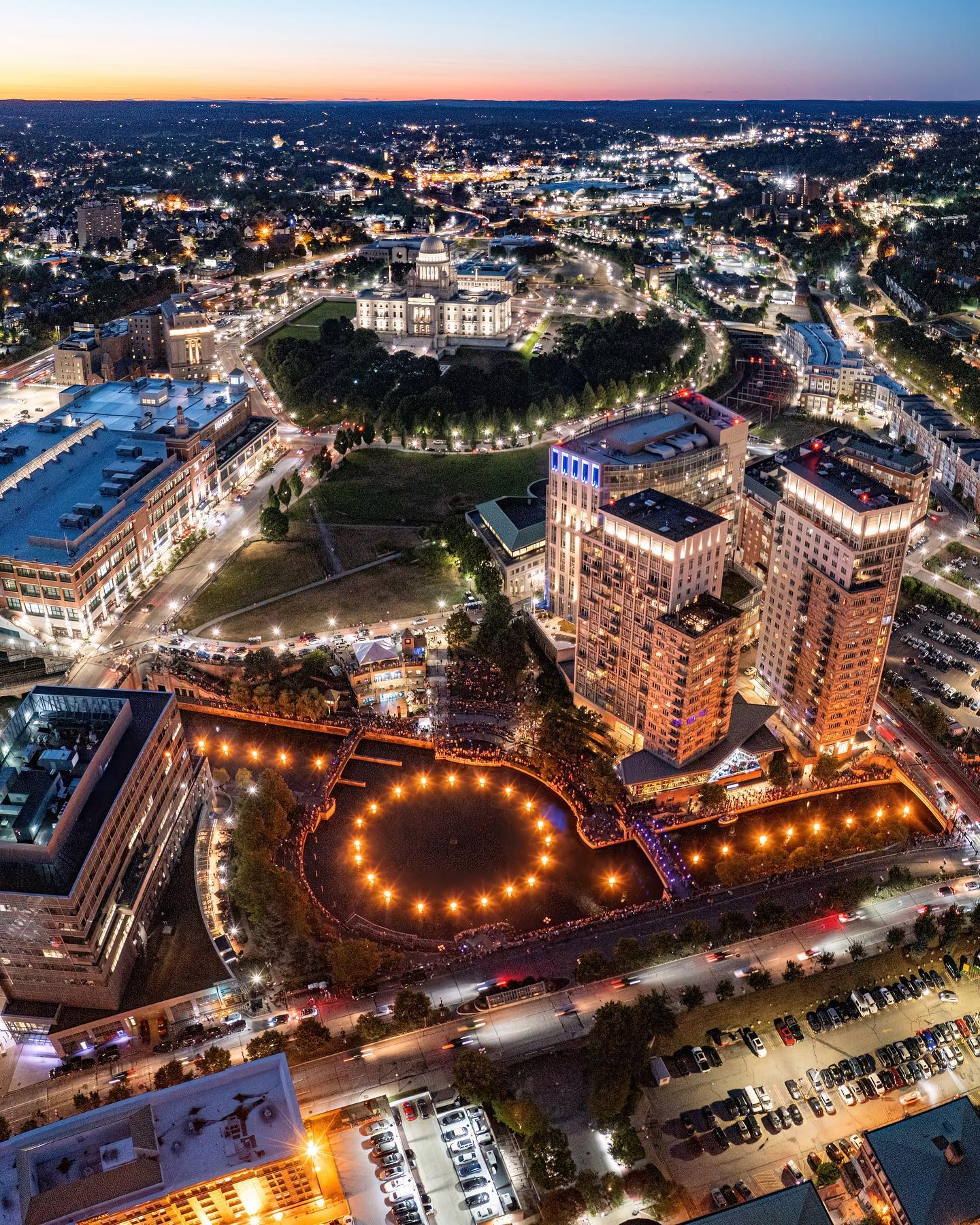 Photo credit: GoProvidence Facebook page/@nrmillard