CENTER FOR ACADEMIC EXCELLENCE
Supporting Food Innovators
The mission of JWU Providence's Ecolab Center for Culinary Science is to support food entrepreneurs and the food industry with their innovation needs, from product development to nutritional labeling, basic laboratory analysis, and more.
---

Product Development
Food product innovation is a key driver of food business success. At the Ecolab Center, we help with your food product development needs using an on-a-budget approach when resources are limited or a streamlined approach when more resources are available.
On-a-budget product development is conducted by teams of students under faculty supervision in the context of a class. This is a low-cost alternative designed to help startups, solopreneurs, social entrepreneurs, and NGOs with limited resources.
Streamlined product development is conducted by a team of seasoned food product development experts capable of complex prototype development. Companies that benefit from this approach are larger ventures requiring a quick turnaround.
Interested in product development? Send us an email and we will contact you.
---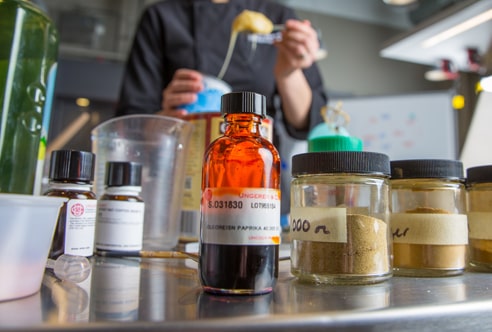 Process Authority Product Verification
Food & Drug Administration (FDA) regulations require that all shelf-stable acidified products sealed in a hermetic container — for example, pickles, salsa, and BBQ sauce — must be evaluated for safety by a process authority. The process authority conducts product analysis, reviews the process and list of ingredients, and then writes a letter confirming the product's safety.
We offer process authority product evaluation for acidified foods at the Ecolab Center. To send your product for evaluation, download and fill out the Process Authority Request Submission Form (PDF) on Forms & Fees, then submit to us by email.
Before You Submit
Before submitting the form, make sure your product formula is finalized. Any changes in the process, ingredients, or containers after the product is reviewed and a letter provided will result in a letter amendment with additional charges. Moreover, you may need to refile your product with the FDA. Also, you will need to submit product samples in the final container that you will use in commerce. Typically, you will need two jars of product for hot-fill processes, and five jars when a heat penetration test is needed.
Once we receive your submission, we will contact you via email with instructions about the samples and a quote for the services. The lead time from the time we receive the sample until you get your letter is typically two weeks. Note that the university is closed between December 15 and January 3.
---

Nutritional Labeling
The Nutrition Facts label on packaged foods provides consumers important information about the food they are about to eat. Information such as calories, sugar and fat content, vitamin and mineral levels, and ingredient contents help consumers to understand how a particular food fits into their diet.
We can help your food company develop Nutrition Fact Panels for your label. To request one, fill out the Nutrition Facts Submission Form and submit it by email.
---

Basic Laboratory Analysis
Lab analysis for pH, water activity, and Brix measurement of food and beverage products.
---
Training
Coming soon
Better Process Control School for Acidified Foods
This is a two-day training that processors of low-acid and acidified canned foods need in order to comply with USDA and FDA regulations. Both government agencies require that food manufacturers of low-acid or acidified foods operate at all times under the supervision of a person who has attended Better Process Control School.
Preventive Controls for Human Foods (PCQI FSMA Training)
Completing this course is one way to meet the FDA requirements for a Preventive Controls Qualified Individual (PCQI). This competency is required for individuals who oversee the identification and mitigation of hazards during the preparation and implementation of a food safety plan, review of records, and reanalysis of food safety plans.
This course follows the standardized curriculum set by the Food Safety Preventative Controls Alliance (FSPCA).